I'm holding an N-themed Pokemon art contest! Win an N figurine, sylveon plush, or variety of other plushies! Sketch prizes for all who participate!

There's also a raffle prize for simply spreading the word!
Hello, everyone! I ended up purchasing a duplicate figure of N and Zorua, so I felt a good way of finding him a new home would be to hold an art contest!

Let's get right down to the details.
THE SUBJECT
Since N himself is the grand prize, I wanted the art contest to revolve around him, especially because I know anyone who wants the figure a whole lot will have fun drawing him. c:
SO the theme will be N and a post-game positive relationship with Hilbert, because I'm a big sap for cute things. It does NOT have to be a romantic relationship, I want to make clear! If Isshushipping is your thing, awesome! It's my thing too, and you can go for it.

But if it's not your thing, a cutesy friendship drawing is fantastic. I don't want to restrict this contest only to people who are interested in the ship, haha.
Other than the requirement of those two characters interacting and good relationship, feel free to do what you like! Obviously, it MUST be your own work that's submitted, and it MUST NOT be a work you created prior to this contest beginning. Please also include in the description that the artwork's for this contest to distinguish it.
To submit your entry, send me a message on either tumblr or deviantART, and MAKE SURE that I have replied to confirm I've received your submission. Feel free to submit as many as you'd like, but you can only win one place, and each work will be separately judged. So basically, quantity doesn't give you a better chance.
The DEADLINE will be October 31st, 11:59PM (PST). This is subject to extension, but try not to count on an extension. We'll see how busy people are and how many can get submissions in by this time.
THE PRIZES
*~*~GRAND PRIZE~*~* First place will receive a figurine of N with Zorua! It will remain unopened and unassembled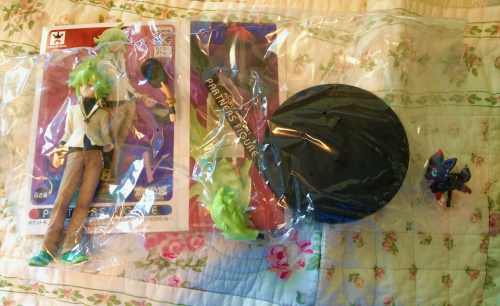 And here he is hanging with my other two Ns to prove I do indeed have an extra haha
~SECOND PLACE PRIZE~ A plush of sylveon! You also have the option to instead ask for a plush of your choice that's $35 or less if you already have a sylveon or don't like sylveon all that much
~THIRD PLACE PRIZE~ A plush of one of the starter Pokemon from the first five generations, OR a plush of your choice selling for $25 or less.
~PARTICIPATION PRIZE~ Yes, there's a prize just for entering!

I will take a sketch request of 1-2 characters for you. Bear in mind it may take a bit to finish these all due to a busy schedule, but everyone will get one! The only limitations to these requests are 'Things I'm Uncomfortable With Drawing.'
~RAFFLE PRIZE~ I'd like the contest to spread around, so you can enter this portion just by getting the word out! If your name's drawn, you'll get a full color drawing of 1-2 characters from me.
Let's say the maximum number of reblogs that count will be two. (If you have a tumblr, reblog here) With dA journals you'll need to message me a link to it.
If you submit more than one entry to the contest, it will count for 1 extra raffle entry for every submission after your first. And again, the only limitation for requests is the same as previously stated.

JUDGING
Please allow me approximately a week after the contest's end to judge the entries. I'll be the final say and the main judge here, but I may also consult unbiased friends privately for opinions. The art will be judged on a combination of effort, quality, creativity, etc.

LASTLY…
You will obviously have to be comfortable with giving me your address. I will cover shipping! I'd also appreciate it if you let me know when you receive your prize!

If for any reason someone who placed is unable to accept a prize, the placements beneath it will move up one, including runner ups. If a winner ends up wanting a lower tier prize, things will also be reorganized in roughly that fashion. Because of this, I'll wait to confirm everyone can receive their prizes before shipping any of them.
Also keep in mind I don't have the plush prizes on hand because of the variety of options, but they will be purchased and sent to your address from a reliable seller.
If you have any questions, feel free to ask me! I really hope everyone has fun drawing submissions, because the enjoyment of that was a huge consideration!

I'm excited to see what everyone comes up with!